What is new?
AI-based noise suppression is now available in Microsoft Teams meetings. This feature removes unwanted background noise using AI technology that analyses the individual audio feed and separates the speakers voice from other sound. Users can adjust the suppression they want, with a new "High" level added to accommodate remote or on-site workers.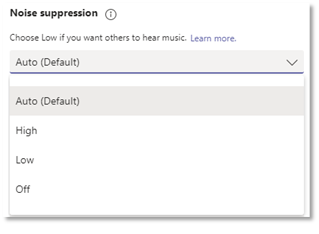 How can it benefit you?
Noise suppression makes it easier for speakers in loud environments to chat and present with team members, regardless of where they are. You can present engaging, professional meetings without worrying about sound distractions like clicking pens or keyboard typing.
What is Microsoft Teams?
Microsoft Teams is the digital teamwork hub for modern businesses, facilitating collaboration with workspace chat, audio and video conferencing, shared file storage and application integration. Microsoft Teams is part of the Microsoft 365 family and is accessible via desktop, mobile and web devices.