Create a New Plan in Microsoft Planner
1. Open Planner in your browser.
2. Select New plan in the left pane.
3. Type a name for your plan in the Plan name field.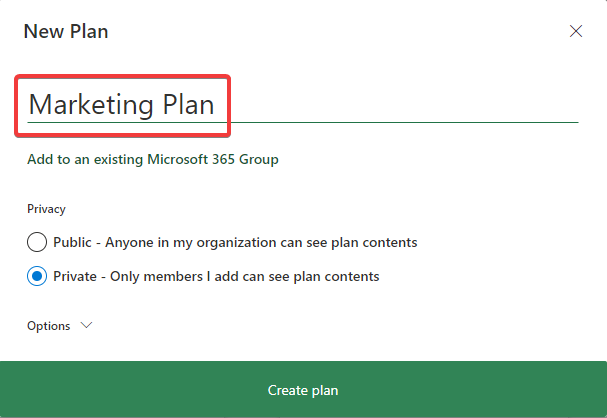 This will automatically create an email address for your plan which you can use for discussions with plan members.
4. Next you can choose to add the plan to an existing Microsoft 365 group or skip if you want to create a new group.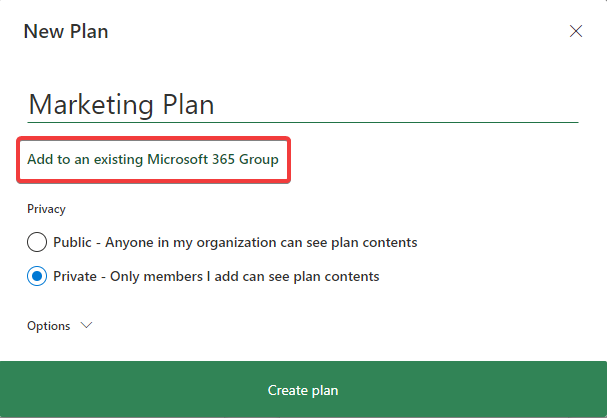 If you choose to add the plan to an existing group, search and select the group.

Note: If you don't add the plan to an existing group, Planner will automatically create a new Microsoft 365 group.
5. Next you can choose whether to make your plan public or private. If you make the plan public, it will be visible to anyone in your organisation. If you make the plan private, it will only be visible to the invited plan members.

6. Lastly, you have the option to add a unique description that will be visible to all plan members.

7. Select Create Plan.
Add People to the Plan
1. To add people to your plan, select Members in the upper-right corner of the Planner window.
2. Start typing the name or email address of the user in your organisation you want to add.
3. Select the user when it appears.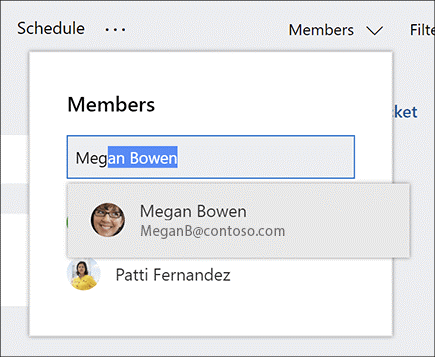 The user will now be added as a member to your plan and can be assigned tasks.
Create Buckets for Tasks
In your plan, you can create buckets to organise tasks into categories such as workstreams, project phases, or topics.
1. Ensure your plan is displayed as Board view. Navigate to the top right of your plan to check the set view.

2. Select Add new bucket.

3. Type a name for your new bucket and select Enter.
Change the Task Grouping
You can change the task grouping to highlight different aspects of your plan. For example, you can sort your tasks by bucket, progress, due date, or labels.
1. To change the task grouping, select Group by in the top-right corner of the plan board.
2. Select one of the options.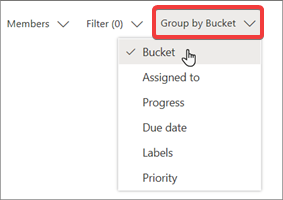 Your tasks will now be sorted according to your selection.
What is Microsoft Planner?
Microsoft Planner is an app available in the Microsoft 365 suite designed to track tasks and activities. Planner is accessible on desktop, mobile, and web devices.