Microsoft Teams enables you to download a complete list of attendees who were present in your meeting. You can download reports from meetings created from a channel as well as private scheduled meetings.
Meeting attendance reports contain:
Meeting start/end time
Total attendees
Attendees join/leave times
Attendee name, email, role
Duration attended
Download from the Channel
Attendance reports for channel meetings are automatically posted as a reply in a conversation thread within the channel. Simply select the Attendance report button to download the CSV file.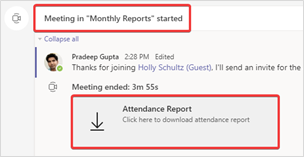 Download from Meeting Details
If it is a private scheduled meeting, you can download the report from the meeting chat or from the meeting details in your calendar.
1. After the meeting has ended, open the meeting to view Meeting Details
2. Select the Attendance report button to download the CSV file and open in Excel to view the report
Note: Only meeting organisers can download attendance reports. Your Microsoft Teams admin will also need to turn on this feature to make it available.
What is Microsoft Teams?
Microsoft Teams is the digital teamwork hub for modern businesses, facilitating collaboration with workspace chat, audio and video conferencing, shared file storage and application integration. Teams is part of the Microsoft 365 family and is accessible via desktop, mobile and web devices.