The Raise your hand feature in Microsoft Teams meetings allows you to visually indicate to people that you want to contribute. This feature enables you to let others know that you have a question or comment without interrupting the flow of the presentation. It is important to note that this feature is only available in meetings with three or more participants.
How to raise a hand
As a participant you can raise your hand by selecting Show reactions in the meeting controls, and then selecting Raise your hand. All users in the meeting will then see that your hand is raised.

Meeting organisers and presenters will also receive a notification that your hand is raised.
How to lower a raised hand
To lower your raised hand, select the same hand icon in the meeting control bar. This will remove your raised hand.
As a meeting organiser or presenter, you can also lower a participant's raised hand by hovering over a participant's name, right clicking, and selecting Lower hand in the participant pane. Participant's raised hands will be listed in order from top to bottom within the participant pane.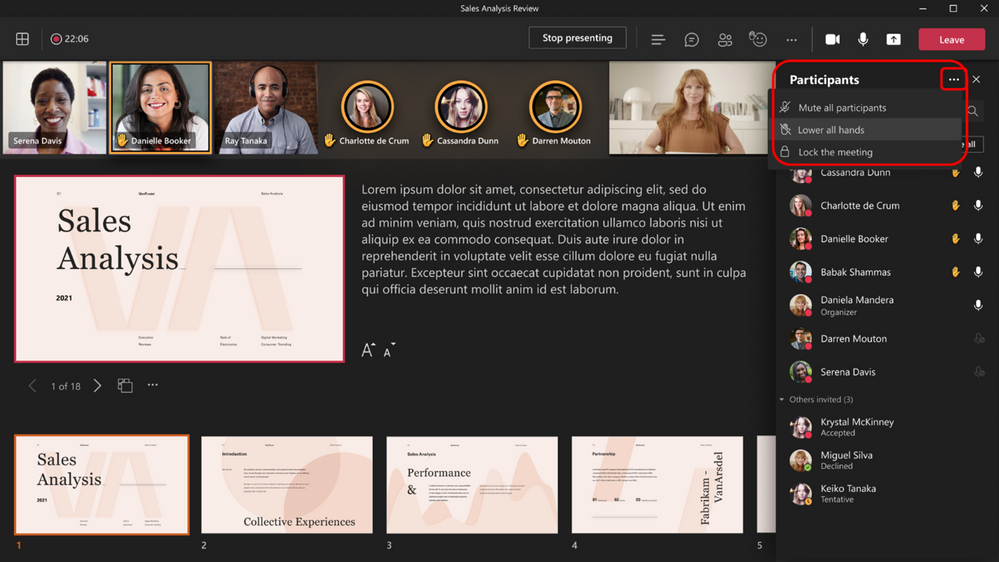 How to lower all raised hands
The extended functionality to lower all raised hands simultaneously is coming soon to Microsoft Teams. When available, meeting organisers and presenters will be able to select an option in the participant pane to lower all participant's raised hands with a single click and move on with the presentation. This will help quickly remove raised hands after questions have already been answered.
What are the benefits?
The raised hands feature is highly beneficial for presentations that require a Q&A element or for impromptu polls. In a poll scenario, the feature provides a visual indication of a participant's response without detracting from the main speaker or presenter.
What is Microsoft Teams?
Microsoft Teams is the digital teamwork hub for modern businesses, facilitating collaboration with workspace chat, audio and video conferencing, shared file storage and application integration. Teams is part of the Microsoft 365 family and is accessible via desktop, mobile and web devices.