What is new?

Microsoft is rolling out a new feature in Word, called the modern comments experience. This feature comes with improved keyboard shortcuts, @mentioning capabilities and email notifications. The modern commenting feature will be unified across Word, Excel, and PowerPoint.
You will be able to @mention co-authors and post comments on a document. When someone has commented on a shared document, co-authors will receive an email notification and will be able to respond directly. You can choose to show the comments pane as a focused view or an all comments view, which includes both resolved and unresolved comments.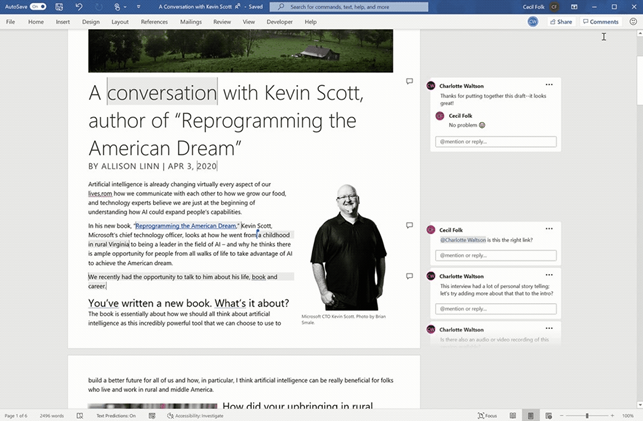 To quickly create a new comment, you can use the keyboard shortcut Ctrl+Enter. When you select a comment, a border will appear and the related text in the document will also be highlighted. Other updates in Microsoft Word include text predictions, dictation and Designer in Word.
What are the benefits?

Modern commenting will make it easier for co-authors to work more efficiently on documents. The improved user interface acts as a conversation-style thread, offering users a more interactive and collaborative experience. The addition of @mentions and email notifications also provide streamlined communication so co-authors are always kept in the loop with document updates.
What is Microsoft Word?

Microsoft Word is a word processor developed by Microsoft. Word is part of the Office 365 suite and is accessible via desktop, mobile and web devices.