What is new?
A new AI-powered feature is now available in Microsoft Planner. When you need to add a file to a task in Planner, a list of suggested attachments will automatically be displayed for you to choose from. The related attachments are based on the title and description of the task, as well as the assigned members.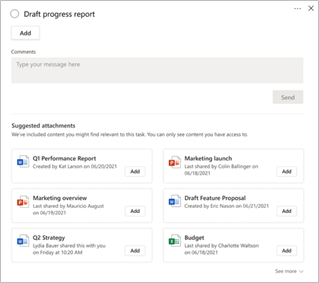 What are the benefits?
This feature update reduces the frustration of not being able to find a specific file and helps streamline your task management by automating a repetitive process.
What is Microsoft Planner?
Microsoft Planner is a planning application available in the Microsoft 365 suite designed for both individual and team collaboration. Microsoft Planner enables users to organise their tasks at a high level by adding files, checklists, and custom labels. Tasks can be filtered by due date, priority, label, bucket and assigned person. Users can choose to view their tasks in a list, board, chart, or schedule view. Microsoft Planner is accessible on desktop, mobile and web devices.