Business as Usual After a Crisis
All organisations recover quickly from a crisis and learn lessons to ensure that they will be better placed to deal with a similar event next time – don't they?  Why is it that some organisations return to business as usual quickly while others are less swift to respond?  After the incident, will they simply go back to the normal operations, or will improvements be made immediately? 
Some recent events
Here is a selection of crises that have affected different organisations in different ways.  The list is used as an example of the various types of crisis that exist and how they may be categorised: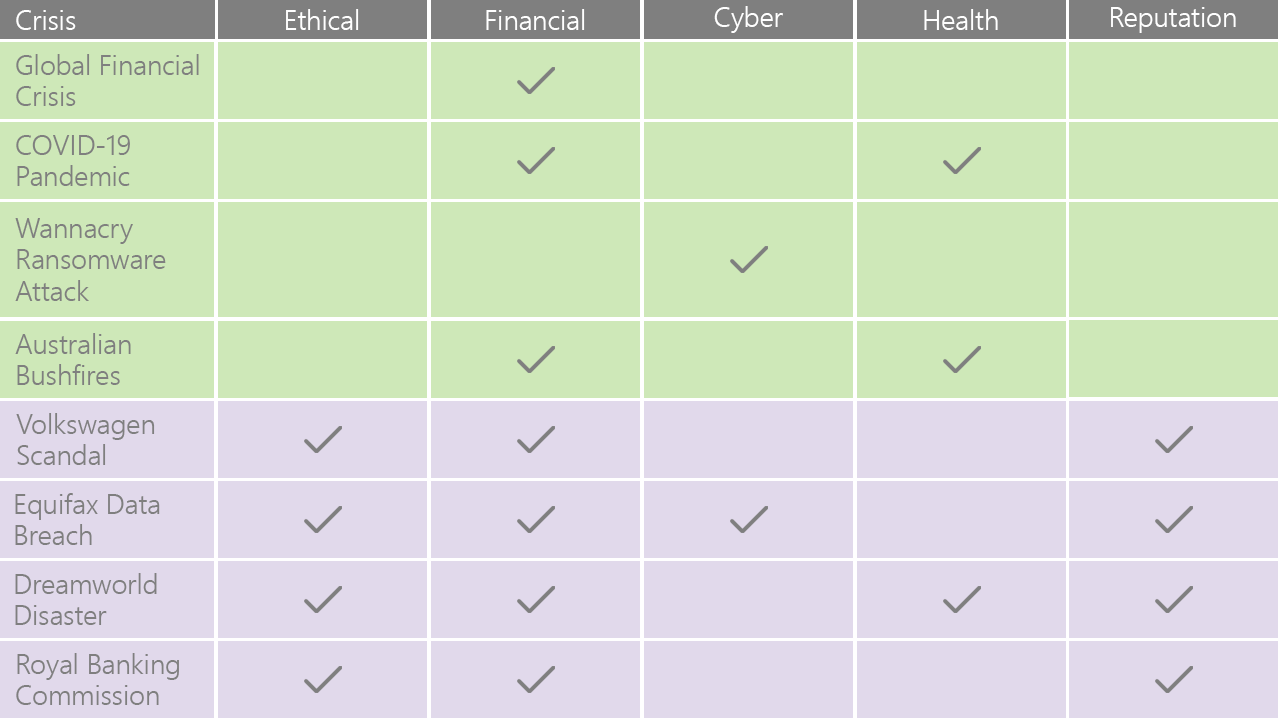 Note that each crisis affects organisations in different ways, and that from different perspectives, different boxes could be ticked than are presented above.  The table is to be read as an illustration of how a crisis may be categorised, rather than a comprehensive analysis of specific events.
It is interesting to see how the top four crises in green in the table are generally external events, whereas the bottom four in purple are internal.
History has taught us that many organisations fail to learn anything from the events that devastate them.  Regulators often penalise the same businesses for breaches of the same compliance obligations.  COVID-19 caught so many off-guard, yet SARS and MERS disrupted many businesses less than 20 years ago.
Opportunities for implementing cloud computing, mobile computing, social computing and big data analytics have been available for almost a decade yet many organisations would rate their maturing on these technologies as low.
The anatomy of a crisis
Organisations respond to a crisis in a range of ways.  Some are quick to communicate with customers, employees and others, which some businesses choose to wait until they have a level of certainty before opening their corporate mouths. 
In any event, the typical process is as follows:

Following a crisis, there is an initial response.  This could be to firstly establish a crisis team, gain a detailed understanding of what has occurred and to issue a media statement.
After the initial shocks have been felt, a recovery phase enables an organisation to slowly rebuild and address the impacts of the crisis.
Finally, there is a return to business as usual.  But not all organisations follow this path.  Is business as usual what you want to go back to, or are there lessons to be learned from the crisis that enable smarter businesses to change or pivot?
There are two options here.  Firstly, those agile organisations able to pivot early may seek out opportunities while the crisis is affecting other organisations.  During their recovery, they identify products or services that could be of benefit to others and quickly develop and bring these to market.
Secondly, for some, there is a new business as usual.  They recreate themselves rather than return to what they used to do.
Behind both these alternative pathways is a business with strong Organisational Resilience.
Recommended Actions
It has been said that you should never waste a good crisis.  Here is a checklist of issues for boards and management to consider:
What have we learnt from recent events affecting our organisation?
How can we improve our organisational agility?
Do we have a mature risk management framework?
How do we identify emerging risks for our business?
Have we documented and tested our business continuity plan?
Do we have the systems in place to work from anywhere?
Where is our data?
Are our systems secure?
We live in a world of volatility, uncertainty, complexity and ambiguity. 365 Architechs provide a range of digital transformation, cybersecurity and artificial intelligence services to assist organisations in improving their organisational resilience and agility.