What is coming soon?
A new feature is coming to Microsoft Teams that enables you to quickly create a task from any chat or channel conversation. You won't need to switch apps or windows, simply select More options on a message and select Create task. This automatically creates a new task, which you can modify and track in the Tasks app, within Microsoft Teams. A link to the original message or post will also be included in the task to provide context.
What are the benefits?
The integration of task creation in messages enables you to identify tasks that arise naturally in Teams' conversations. This process also streamlines your day by reducing the need to manually enter each new task.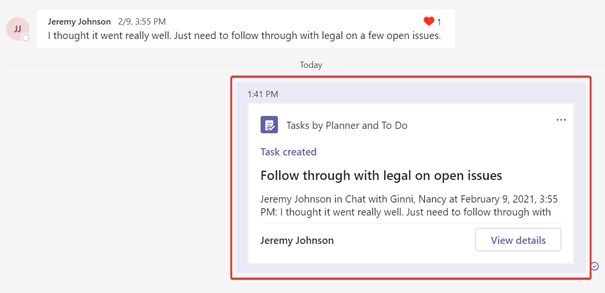 What is Microsoft Teams?
Microsoft Teams is the digital teamwork hub for modern businesses, facilitating collaboration with workspace chat, audio and video conferencing, shared file storage and application integration. Teams is part of the Microsoft 365 family and is accessible via desktop, mobile and web devices.