By default, Microsoft Teams encrypts all communications using industry-standard technologies.
To further increase the confidentiality of communications, Microsoft is releasing an option to use end-to-end encryption for one-on-one audio calls. This feature will provide an additional security option for conducting sensitive online audio conversations.
It is important to note that this functionality must be enabled by the IT admin. To support customer security and compliance requirements, the IT admin will have full control of who can use end-to-end encryption in the organisation.
This functionality can also be applied to individual users instead of the entire organisation if you require it.
Also, note that enabling end-to-end encryption prevents specific call features from working including:
Recording
Live captions and transcription
Call transfer
Call park
Call merge
Cal companion and transfer to another device
Adding participants to make the one-to-one call a group call
Users will still be able to use audio, video, and screen sharing features when end-to-end encryption is enabled.
Support for end-to-end encryption will be available on the latest versions of Microsoft Teams for Windows and macOS.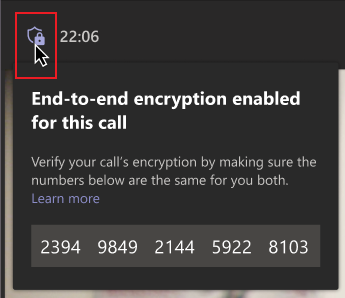 What are the benefits?
End-to-end encryption in Microsoft Teams calls can facilitate more secure communication and help organisations to meet privacy and compliance requirements.
What is Microsoft Teams?
Microsoft Teams is the digital teamwork hub for modern businesses, facilitating collaboration with workspace chat, audio and video conferencing, shared file storage and application integration. Teams is part of the Microsoft 365 family and is accessible via desktop, mobile and web devices.