What is new?

Microsoft Planner will soon allow users to add up to 25 labels to their tasks, instead of the current 6.
What are the benefits?

This feature update offers users more flexibility to support larger projects that require more detail in filters. A greater number of labels means that users have more options to drill down into and further differentiate their tasks. Users can customise label names, assign multiple team members and add multiple labels to one task.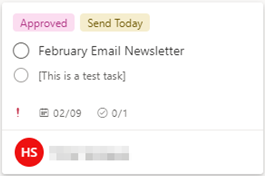 What is Microsoft Planner?

Microsoft Planner is a planning application available in the Microsoft 365 suite for individual or team collaboration. Microsoft Planner enables users to organise their tasks at a high level by adding files, checklists and custom labels. Tasks can be filtered by due date, priority, label, bucket and assigned person. Users can also choose to view their tasks in a list, board, chart or schedule view. Planner is accessible via desktop, mobile and web devices.