What is new?
View switcher is coming soon to Microsoft Teams to allow participants to control and easily change how they see the meeting content. This feature button will be available at the top of the Microsoft Teams meeting bar.
You can choose Together mode to interact naturally with your colleagues and without visual distractions. Select Gallery on top to display all video feeds at the top of your meeting window. This view makes it easier to have more natural eye contact with other meeting participants. You can select Focus to hide all video feeds and focus your attention fully on the shared content. Lastly, you can use Full Screen to remove all other desktop distractions.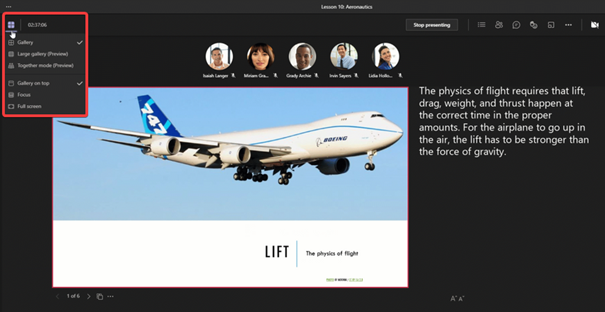 What is Microsoft Teams?
Microsoft Teams is the digital teamwork hub for modern businesses, facilitating collaboration with workspace chat, audio and video conferencing, shared file storage and application integration. Teams is part of the Microsoft 365 family and is accessible via desktop, mobile and web devices.